This page will step you through the process of connecting your Paytron account to your Xero organisation.
Pre-requirements
To complete these steps you will need:
An existing account in Paytron, using either your email address or your Xero credentials
An existing account in Xero, with at least one organisation.
An Premium subscripton to Xero if you are going to be using multiple currencies.
Note that your Paytron account can only connect to one Xero organisation at a time. However, multiple Paytron accounts can be linked to on a 1:1 basis with multiple Xero organisations within a single Xero user profile.
How to connect
Start by logging into Paytron. Once you're at the dashboard, look in the top righthand corner of the screen for your user icon. Click on the user icon, then select Settings.

From your settings page, select the Admin tab from the menu at the top of the page.
Within your admin page, you'll see the Accounting package settings on the righthand side. Next to Xero, click on Connect to Xero.

This will open up a box in the middle of your screen with some terms you need to consent to in order to proceed.
Take some time to read through the information. Once you're happy, select Confirm to be taken to the Xero website where you will be asked to login with your Xero credentials.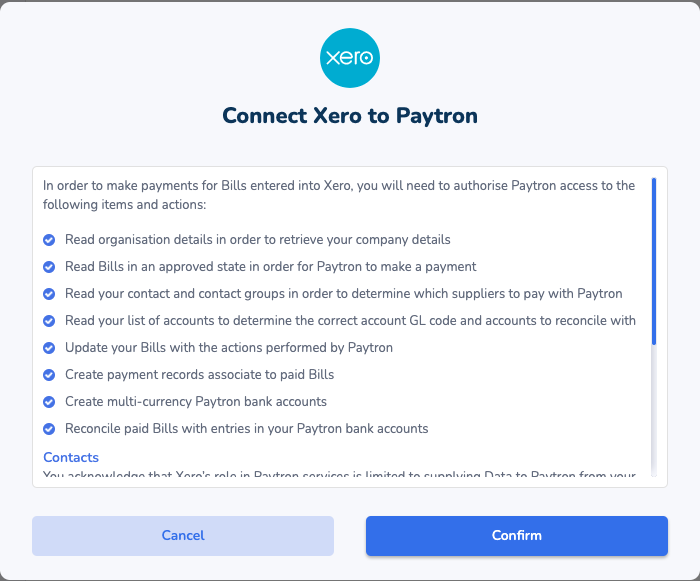 Once you've successfully logged into Xero, you'll be asked to select an organisation. Be sure to check that the organisation you select matches the legal entity you used to setup your Paytron account.
Once you've selected an organisation, click Allow access. Xero will then return you to your Paytron account's dashboard.
Congratulations! You have now integrated your Paytron account with Xero!
Check out The Magic that happens in the background section to see exactly how Paytron will interact with Xero.
How to disconnect
If you want to disconnect your Paytron account from Xero, you can do so at any time. Head over to Settings, Admin and Disconnect from Xero. Alternatively, you can disconnect from within Xero by heading over to Settings, Connected Apps and selecting Disconnect found by clicking the ellipsis next to the Paytron block.
If you change your mind later, you can reconnect at any time. Simply follow the steps described earlier on this page.